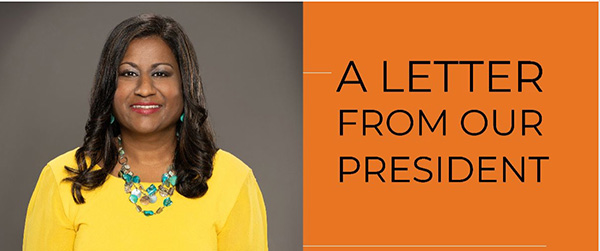 Dear DA4S Members,
The end of a year is always a time for us to reflect. Reflections on our years' achievements, successes, failures, goals attained and unattained and most importantly…self-reflections.
The tumultuous times of 2020 kept rolling right into 2021. While we all continue adjusting to working from home, doing the laundry in between virtual calls, juggling kids' schedules, and yes, getting that darn pet off our keyboard for the 112th time for the day, somewhere along the line, a shift occurred. We started valuing what's truly important in life – the time we spend with loved ones. The time we get to spend in-person with others. The freedom to give someone a hug, while still feeling safe.
This year, DA4S was incredibly proud to be the first national organization to hold an in-person event after COVID-19 forced the cancellation of all national conferences since March 2020. During our annual West Coast conference, we always kept the safety and well-being of our attendees' top of mind and realized how much you all wanted to meet in-person and how valuable it was to have meaningful live interaction.
Our conference was sold out in record time, and the event was an undeniable success. All our fully vaccinated attendees found significant value in the speakers, the relevant educational content, the incomparable networking, and the stunning location.
In addition to being the lead in bringing back a successful and safe live event, DA4S had many other achievements in 2021. We optimized our virtual offerings with our highly anticipated monthly Members' Lounge, our Mentorship program doubled in mentoring pairs, the annual Eight that Innovate contest received the most applications since its inception, with all top eight receiving a scholarship to the TUCK Program in partnership with BMS. We also delivered two very successful virtual Matchmaking events that saw over 700 matched meetings, and we introduced our CPO and Procurement webinars.
This year we were proud to introduce in partnership with Merck, the Merck Drexel Advanced Leadership Program. Twenty DA4S Supplier Members were selected from a large number of applicants to participate in this Drexel University intensive program and graduated after 6 months.
In addition to all our annual programming we launched Elevate Black, a significant and impactful virtual program that included the Elevate Black Experience and Showcase event held in July. This program allowed us to feature and showcase 25 black owned enterprises with a matchmaking day where connections were made with key decision makers.
Our Members asked and we delivered.
As we catapult into 2022, DA4S will continue its' commitment to supporting social justice and racial equality by continuing our Elevate Black program as well as enhancing all the other programs we offer to all Members.
After two years of uncertainty, let's walk into 2022 with optimism and a bright vision for remarkable things to come. Let's spread love, care and kindness for not just our families – but for everyone in our communities. Together, we are stronger and better.
Best wishes for a safe, healthy, and joyful holiday. May the new year bring plenty of opportunities, adventures, and MORE good health.
Warmly,

Saken Khokhar
President