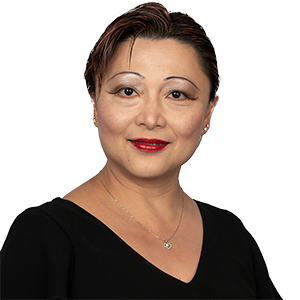 Shirley Tang-Audritsh is the Supplier Diversity Program Manager at Eli Lilly and Company headquartered in Indianapolis, IN. She has been with Lilly for 24 years, with the past 16 years in Global Procurement. In her current role, she actively engages with local and national advocacy groups for supplier diversity, identifies qualified diverse and small businesses that meet business needs, and advocates the utilization of these diverse and small businesses throughout the Lilly supply chain. While in Procurement, she also has had extensive sourcing experience with Phase I-IV Clinical Development and Regulatory, ranging from CRO/ARO services for clinical trials, Clinical Diagnostics services for Biomarkers, ePRO services, to Patient Recruitment and Retention services. Prior to that, her responsibilities included Intercontinental Regulatory Affairs, Software/Medical Quality Assurance as well as ISO9000 Quality System Implementation.
Externally, Shirley served on the Board of Directors for Diversity Alliance for Science from 2015 to 2018, and was the Coordinator for the NMSDC Healthcare Industry Group. She currently serves on the Board of Directors for Indianapolis Chamber of Commerce Hispanic Business Council, and co-chairs the industry group Helix Supplier Diversity Forum. She was named "2016 Top 30 Champions of Diversity" by DiversityPlus Magazine, "2017 Program Manager of Year" by Diversity Alliance for Science, and "2018 Supplier Diversity Advocate of the Year" by Central Indiana Supply Chain Awards. Under her leadership, Lilly Supplier Diversity Program won numerous awards the past several years. It was ranked No.9 on "Top Companies for Supplier Diversity" by DiversityInc Top 50 out of more than 1800 participating corporations in 2019, and has been recognized on the DiversityInc Specialty List for the past three years. Lilly was ranked #3 on DiversityInc Top 50 list in 2020 for overall performance.
Shirley holds a Bachelor of Science degree in Computer and Information Science.