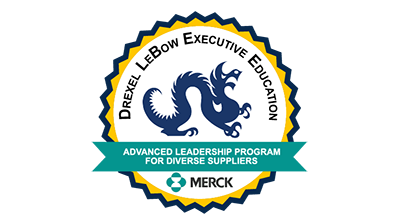 We are excited to bring this program back for our Supplier Members in 2022.
Applications will be accepted Feb. 10 – March 30 
March 30 – firm deadline date to submit a completed application including your video
Benefits & Purpose: To elevate supplier development to a different new level by providing an innovative experiential and learning program to the entire diverse supplier community, inclusive of DA4S members that are certified by NMDSC, WBENC, USPAAC, NGLCC, Disability: IN, NVBDC and USHCC. The program delivers:
An intensive curriculum designed to expand your capacity, skill level and growth potential in critical areas in both classroom and online forums.
Practical experience focused on enhancing critical thinking and decision-making with experiential learning approach embedded throughout.
The opportunity to join peers in a mutually supportive and lasting network.
Can I apply to be part of this program?  Yes, each DA4S member certified by organizations listed above are encouraged to apply. Applications open February 10th, 2022. For additional info contact us at: supplier_diversity@merck.com
Will this be an online course and how long is this program? (Pending COVID-19 Restrictions) This will be a combination of virtual and in-person. The program is four months, launching in May 2022 where the first three modules will be virtual, the fourth module and program graduation will be in person in Jersey City, NJ on August 11th, 2022.
What is an Experiential Teaching Method?
Action-Based Learning Project
Custom Assessment
Case Studies
Challenges and Competitions
What is the price of the program? Should you be selected and accept the offer to attend, the tuition will be fully sponsored by Merck. The only costs that you will incur are logistics as needed.
Further information about the Merck Drexel ALP program and online application can be found here:
https://www.lebow.drexel.edu/companies-recruiters/corporate-and-executive-education/programs-individuals/merck-drexel-advanced-leadership-program
To be considered for this unique learning opportunity, suppliers must submit an online application and be able to commit fully to the program dates. There are limited seats available. Applications will be reviewed by the Drexel and Merck program team, and selected participants are notified in the end of April. >