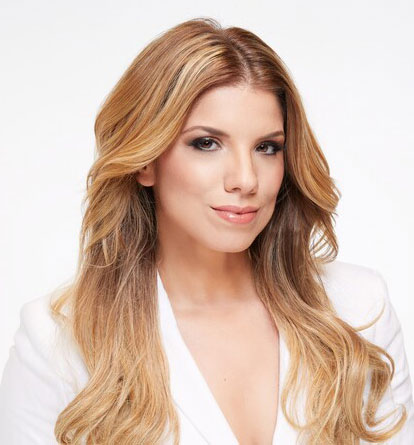 Triple EMMY award winner, bestselling author, and entrepreneur Gaby Natale helps organizations embrace their uniqueness, break barriers, and redefine what is possible.
Every individual has an opportunity to break barriers and redefine what is possible, and triple Emmy-Winning Journalist and Bestselling Author Gaby Natale is on a mission to awaken the PIONEER spirit in each of us.
Gaby is among just a few women in the entertainment industry who not only owns the rights to her media content but also a television studio. This unique situation has allowed her to combine her passion for media and her entrepreneurial spirit, which continues to help her break barriers. In 2021, Gaby became the first Latina author to be published by the leadership division of HarperCollins.
Her first book, The Virtuous Circle, became an instant bestseller, topping Amazon's New Releases charts in 3 different categories (Business, Inspiration, and Self-Help). What has made the book so successful is that it offers readers actionable strategies on how to channel their innate strength and abilities to best work for them.
Gaby has been featured in Forbes, CNN, Buzzfeed, NBC News, Univision, and Latino Leaders magazine. In 2018, People magazine named her one of the "25 Most Powerful Latinas," highlighting the inspirational story of how she went from a local TV show that started production in a carpet warehouse to becoming the only Latina in US history to win triple back-to-back Daytime EMMYs. In the digital world, she has a thriving fan base with over 52 million views on YouTube and 250K+ followers on social media.
A consummate entrepreneur, Gaby is also the founder of AGANARmedia, a marketing company with a focus on Hispanic audiences that serves Fortune 500 companies such as Hilton Worldwide, Sprint, AT&T, eBay, and Amazon. She holds a Bachelor's degree in International Relations and a Master's degree in Journalism from the University of San Andres and Columbia University. Before starting her career in television, Gaby taught Communication and Journalism courses at the University of Texas.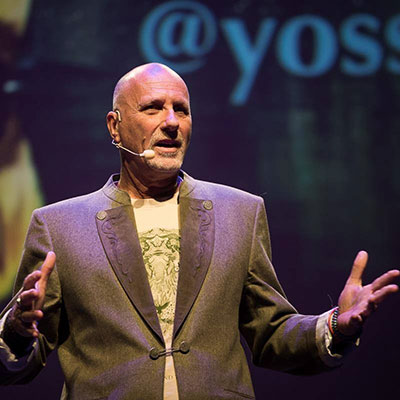 Yossi Ghinsberg is one of our generation's most unique keynote speakers. Amazon survivor, author of Laws of the Jungle and creator of 'The Power to Survive'.
In the midst of the uncharted Amazon, after losing his three companions, one man was tested to the extreme. Alone and bare to the bone, for three harrowing weeks he battled to survive against all odds.
However, Yossi Ghinsberg lived to tell the amazing story. As well as how the ordeal profoundly affected his understanding of himself and his life purpose.
Ten years later Yossi returned to the Amazon and made it his home. Working with indigenous forest dwellers for three years they built Cha-la-lan, a model eco-tourism village that inspired the entire world. The following decade of his life he dedicated to the treatment and rehabilitation of opiate addicts across the globe.
Author of the international best-seller 'Jungle', Yossi's amazing journey has been made into a full-length feature film starring Daniel Radcliffe.
Yossi now travels the planet sharing his messages on vision, hope, survival and the inevitability of change.